USCG Documentation
Free Insurance Quote
Loan Application
Request Information
News
Corporate Headquarters
301 SE 20th St.
Ft. Lauderdale, FL 33316
toll free: 877-YACHT LOAN
phone: 954-764-3010
fax: 954-764-0041

Carolinas Region
100 Hancock Lane
Greer, SC 29650
toll free: 866-YACHT LOAN
phone: 864-879-0498
fax: 864-879-4431

Yacht Insurance:
Gone with the Wind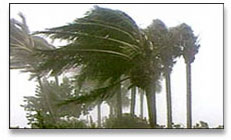 Hurricane Season is a difficult time on the East Coast and Gulf Shores of the U.S. for boat owners as well as the marine industry in general. Officially, this period of time runs from June 1 to Nov. 30 with peak activity between August 15 and October 15th. An excellent example of this is the Hurricane Season where a record four hurricanes made landfalls in August/September causing billions of dollars in property damage.
Each year, the marine insurers keep awary eye toward hurricane & windstorm activity. Carriers will routinely issue a moratorium on writing new policies or making changes to existing contracts when there is a named or numbered windstorm developing in the Caribbean Basin. Since there is no fixed time span on a moratorium, keep in touch with your insurance agent for updates. <read more>
Click here for a FREE Yacht Insurance quote.